468 - A-Generous-Offer
I think that this is probably one of the better deals I've seen in a while. Check out the image in case the page has changed :) I think that it is a move which creates a major differentiating feature in the low-profit PC market.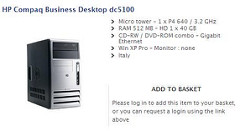 I wonder if this will be taken up by other manufacturers. I can imagine Dell going for large but boring countries and Apple going for odd places like Togo or Andorra.
I have a few questions too

What happens when two people buy the same computer? Do they also come with a copy of Risk or Command & Conquer so you can battle it out to be the sole owner?

Can you run the country how you want? For example, can you dissolve the government and run as a dictatorship?

How does the guarantee work? If you get problems with the country (for example, rioting against your notes from on high) can you return or exchange the country? If the PC breaks, can you keep the country?

Is there any training material for your new role? A 30-day trial ala shareware might be useful too.

Overall, to my mind some questions remain as to the practicalities of this offering.