The View from Melrose Place at Night
The inside of the flat is still too chaotic to photograph and show you, so instead I took some photos of outside the window as it appears under the amber glow of streetlights.
I live just off one of the main streets of Bristol, Whiteladies Road, which is both a fairly major throughfare and the location of quite a few of Bristol's numerous bars. This is both a benefit and a curse. On the one hand, it feels like you are really in the thick of things, with chatter from the street and cars whooshing up and down. It's invigorating and feels very lively. In contrast, when you want an early night, it's not the quietest of places. So far, however, the excitement of being in the thick of things is winning out by a substantial margin.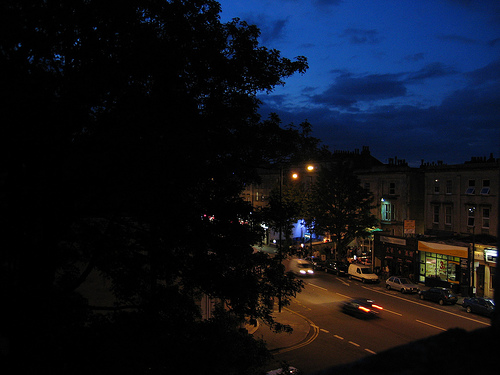 Luckily, though I am now living on my own, my friends all live nearby, meaning I'm not alone. Having a place to be on your own in is no good if the solitude is forced upon you. One of my friends lives on the same street even, and most are within thirty minutes walk. Living on a street of many bars is a good encouragement to get people to come and visit, of course!
I managed to lock myself out of the flat yesterday. This is more of a problem when you are not living with other people, I soon realised. The parking around my house is impossible, so when I arrived home yesterday, I was forced to park miles away from the house. I spotted a space just outside become free and rushed out to move the car. As I left the front door I became aware my bag wasn't jangling in a key-containing kind of way. At least I managed to get the parking space and my landlord was fortunately able to let me back in; I underwent a suitable level of embarrassment. I will have to be more careful in future.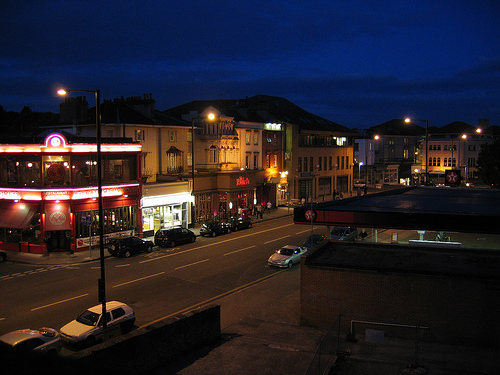 Previous to this house, I've never lived far from the centre — it's always been in easy walking distance — but never lived somewhere that has felt lively; it's always been a quiet side street. This flat feels like a real change, both more central and being on my own. With the sunshine of late spring coming in through the windows and happy chatter seeping in with the breeze, it really is most agreeable.