Andalucía
Our trip to Spain was split into four mini-breaks: Granada, Cordoba, Seville and, finally, Cadiz. We spent four nights in Granada, Seville and Cadiz and two in Cordoba. Each place had its own charm, and I'd recommend each as well worth visiting.
A Taster
Granada, Cordoba and Seville were very hot. Cadiz, being next to the Atlantic, was less so, though still toasty throughout the afternoon and into the evening.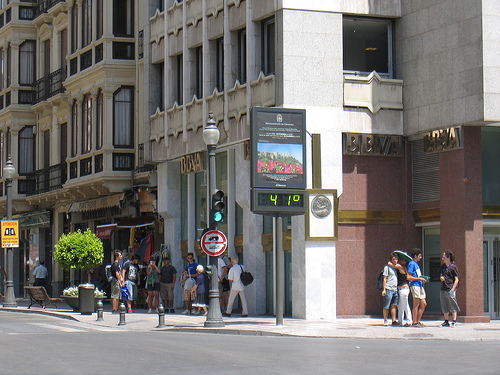 Spaniards, it seems, are not all that great at catering for vegetarians, as virtually all dishes on offer, besides ubiquitous mixed salad and spanish omlette, contain large helpings of meat. Fish is also a prominent offering.
Not being vegetarian, however, I had a whale of a time trying tapa after tapa, including bull, snails and prawns in garlic oil. All were rather special, though most couldn't be classed as low fat.
Public transport in Spain, as with much of the Continent, is a marvel when compared to Britain. Train travel seemed to be roughly half the price, and each train was on time and comfortable. Compared to the extortion practiced by the Bristol bus company, First, the local bus services we fantastic. In Seville, for example, all journeys were €1, around three times less than the price for the bus from my flat to work.
Granada
Granada's biggest attraction is the Alhambra, a sprawling Moorish monument stood looking over the city from a hill rising above it. It is an impressive and ornate set of buildings and gardens, pleasing to merely walk around and observe. Our guide book had very little in the way of historical background, however, and I feel the visit would have been improved by partaking of the Audiotour on offer or by having a knowledgeable friend on hand.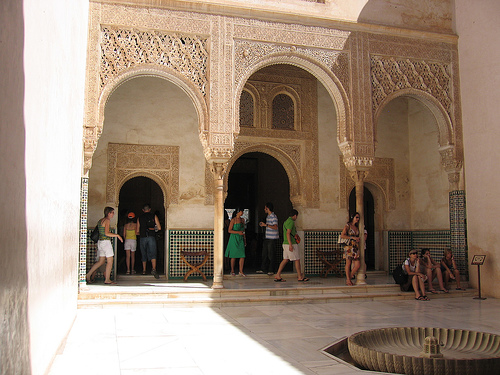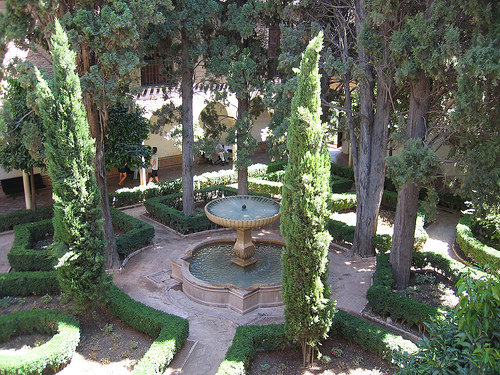 A second highlight of Granada was one of their hospitals. Granada is full of courtyards (or patios, as the Spanish call them; we seem to have bastardised this word somewhat). The hospital contains three of the best. It is a very attractive and impressive building, with painted walls to the patios with central fountains and well kept plants.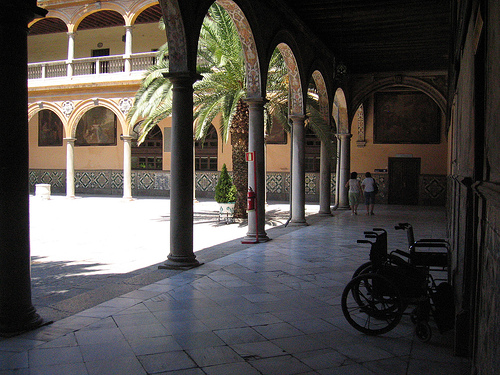 We stayed at the Funky Backpacker's Hostel, the highlight of which had to be the views from its roof terrace when having breakfast.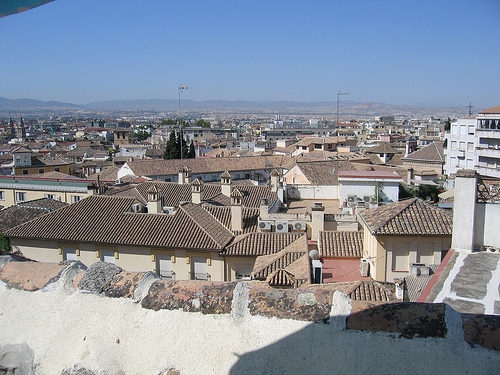 Cordoba
Cordoba is famous for the Mezquita, but should also be highly recommended for its food: we had some of our best tapas dishes here. One of the most superior was fried aubergines with a honey, almost molasses like, goop to dip them in. Terribly unhealthy, and terribly delightful. To aid digestion we consumed considerable amounts of the locally produced Montilla wine, which has an appealing light sherry taste to it.
The Mezquita was originally a Moorish mosque — its name means "Mosque" — which had bits of cathedral grafted onto it during the middle ages, including a fairly bipolar-disorder inspired baroque chapel stuck on the back. It's an impressive, architecturally bizarre, mish-mash of styles. Nowhere else, I suspect, will you find a gothic cathedral nave stuck inside a sea of Moorish columns.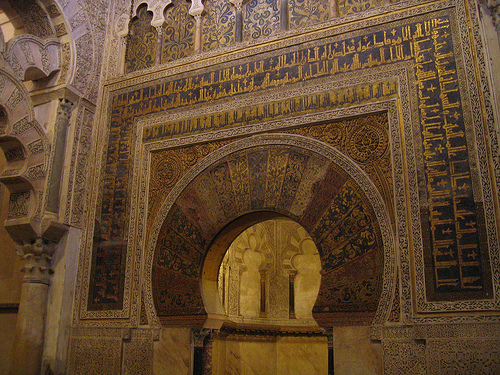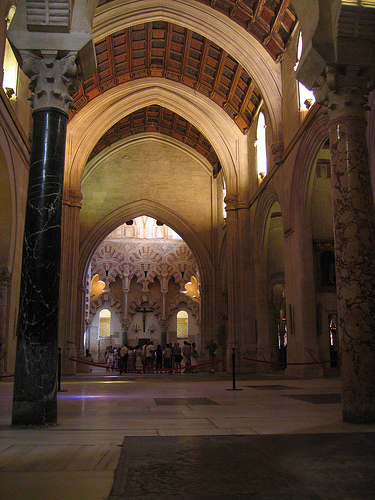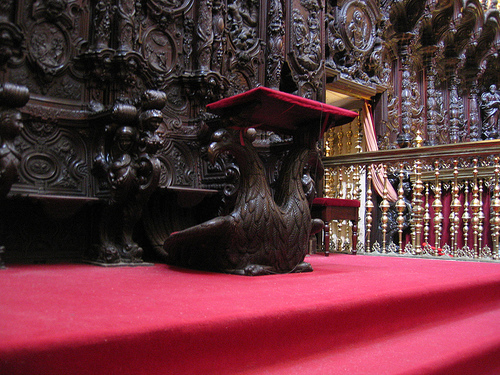 In Cordoba, we stayed at the Hotel Los Patios, which lived up to its name by containing three patios of its own, which the rooms looked out onto. It was also fairly convenient for the Mezquita.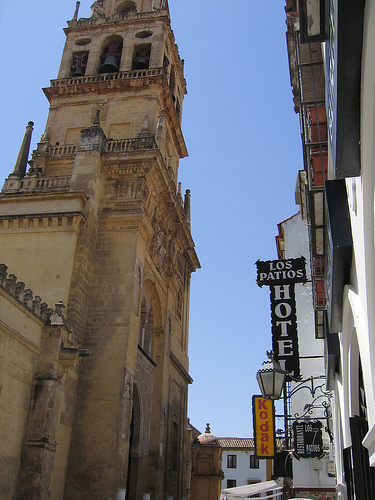 Seville
Seville was incredibly hot for the first two days we were there, cooling to a more managable 35ËšC for the latter two. I was unfortunately feeling a little ill on the first full day we were there, so needed a day long siesta.
We visited Seville's Cathedral, a masterpiece of the Cathedral makers art realised on a massive scale. I have tried to convey the scale of it in some of my photographs, but I'm not sure it's really possible.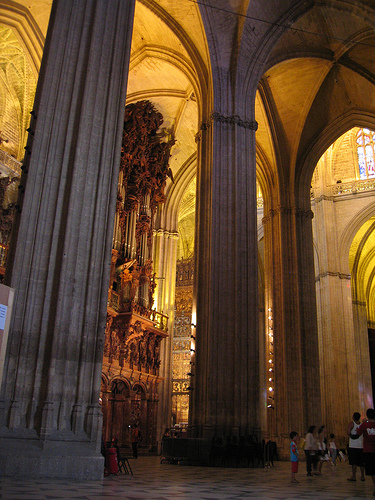 As part of their Spanish-American Exhibition efforts in 1929, Seville built the marvelous Plaza de Espana. It is a large semi-circular square with a fountain in the centre and surrounded on the circle's circumference with an imposing and colourful building.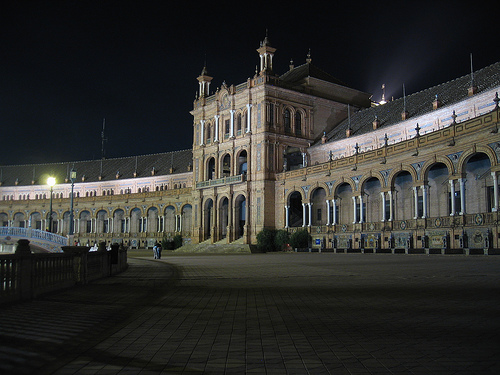 Unlike the well preserved (it's now used as government buildings) Plaza de Espana, Spain's efforts for Expo '92 have been left derelict and are now overgrown and rusting. They make for a slightly apocalyptic landscape, especially in the almost deserted heat of a hot afternoon when most people are enjoying a siesta.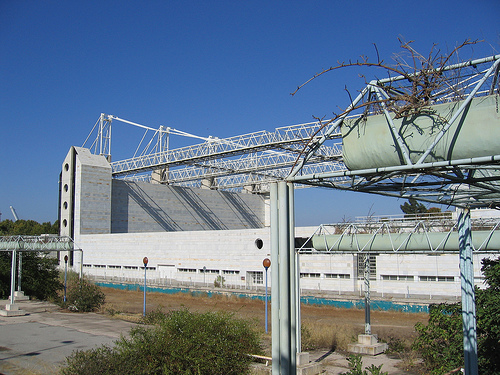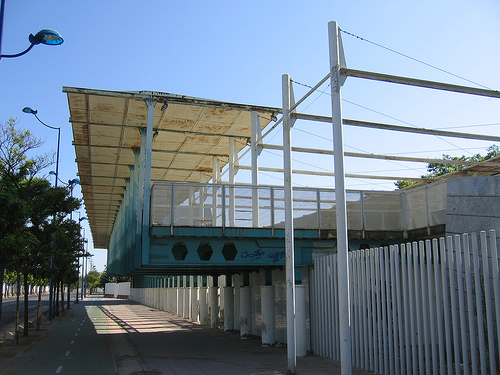 Cadiz
Cadiz is a beach town in the south west of Andalucía. It offers a long, if utilitarian, beach, and a Baroque cathedral to whet the appetite, as well as a host of narrow picturesque streets and squares to where you can enjoy some vino tinto.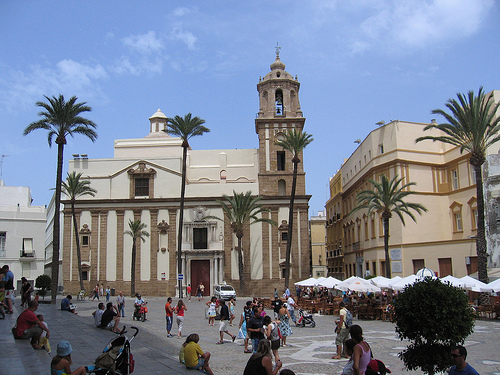 The cathedral is of a similarly vast scale to Granada and Seville's examples. Of note is the crypt, which is very spacious for a crypt, and is very well architected. If you manage to get there without a group of cackling middle-aged men and women (who should know better), it's a very calm and tranquil place; atmospherically dim with portraits of various Catholic bigwigs gazing down upon you.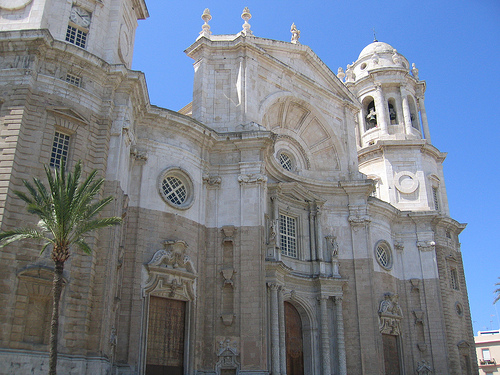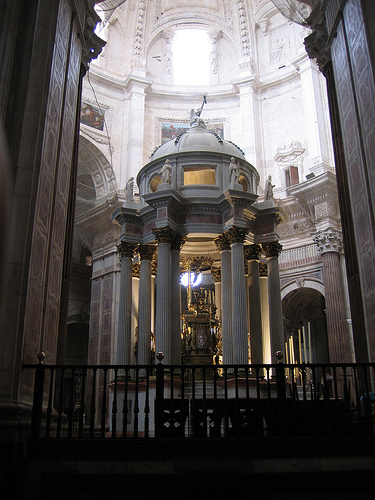 The cathedral is right on the coast, and looks very impressive looking down from the beach.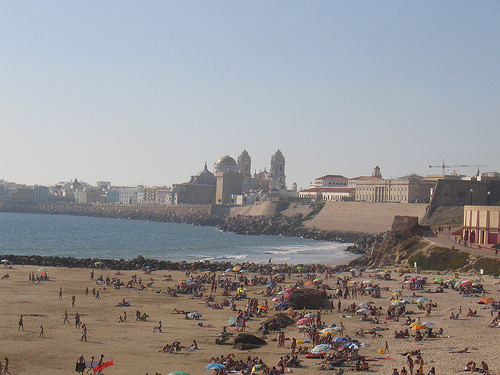 Another worthy site of Cadiz is the camera obscura. This is a tower with a mirror and system of lenses at the top which focus views of the city into a disc of about a six foot diameter which you stand around. A lady then manipulates the mirror and disc to take you on an arial tour of Cadiz, stopping at many of the city's more noteworthy sights. It is very surreal in many ways, due to the strange focussing of the camera and the way it is a live, moving view of the city.
We stayed in a very friendly hostel in Cadiz, Casa Caracol, which I'd heartily recommend to anyone visiting the city. Of special note is their evening meals, which are very well cooked and tasty. We were treated to some great salads and a barbecue amongst other goodies while we were there. These meals made a welcome break from tapas, but would have stood up in their own right, especially considering their €5 price tag. I suppose I shouldn't go on, but the meals were a great way of meeting people and getting some healthy food inside.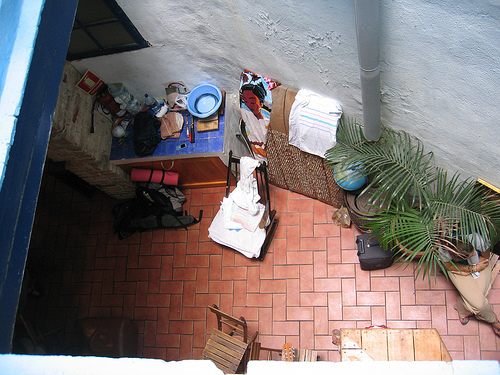 We became fond of a coffee and croissant in the morning, sunshine peeking through the umbrellas of the cafe's outside tables on one of the many squares of Cadiz. Followed by some sight-seeing and then a wonder to the beach or through the streets, Cadiz was a fantastic way to end the holiday.