Firefox to Chrome Makeover
This makeover focuses on bringing both the look and behaviour of Google Chrome to Mozilla Firefox. Using a few extensions, a couple of about:config hacks and a theme, you can produce a remarkably similar experience to Chrome within Firefox. It's not identical, but it brings over most of Chrome's features I value. Here's the final result: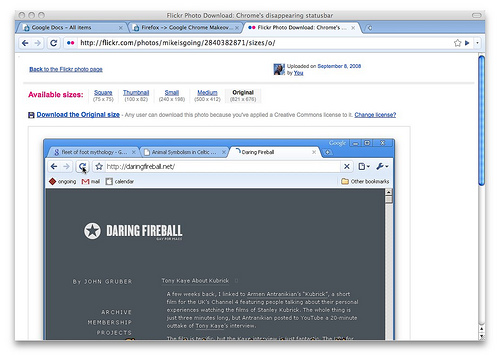 Options
The only change to Firefox's default options is to enable the "Always show tab bar" in the Tabs tab of the Options dialog.
Extensions
This modification relies heavily on several Firefox extensions. I've bookmarked them all in delicious to allow easy finding. It's safe to install all the addons in one go. Most of the extensions add more features than Chrome; I've noted changes required to the default configurations to make their behaviour more Chrome-like.
Here's a quick list of the extensions and what feature of Chrome the approximate.
You need to go into the options for a couple of the extensions to change their defaults.
I don't use Chrome's Incognito Mode very much, but the Steather extension has been recommended as an equivalent; I haven't tried it, however.
Chromifox Theme and User Styles
I've put the userstyles you require as bookmarks in delicious as well, along with a link to the Chromifox theme. Both the theme and userstyles were created by falconer, who has done an excellent job.
Install the Chromifox theme followed by several userstyles to enable a few of the more unusual Chrome features:
There is a bug with the userstyle to move Firefox's tabs to the top of the Window: on OS X and Linux, the New Tab button is cropped and so doesn't display correctly.
And Finally, about:config Hacks
Finally, a couple of about:config hacks are required to tweak a couple of Firefox's default behaviours. Enter about:config in the address bar and click "I'll be careful, I promise!", then edit the following values.
The first option changes Firefox's behaviour when autocompleting in the location bar. The second changes the behaviour of Firefox when you type multiple words into the location bar. By default, Firefox will perform an I'm Feeling Lucky search when you do this. The hack changes it to a normal Google search. Note this only works when you use more than one word in the address bar.
Hope you like the result!